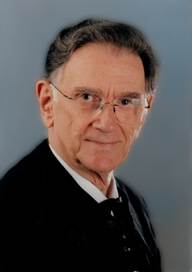 The Guenter Fettweis Award recognizes active SOMP Members for accomplishments and excellence in education, research and professional service to advance the discipline of mining engineering and for significant contributions to the Society.
The award is named after Professor Guenter B. Fettweis, who in 1990 assembled a group of Mining Engineering Professors at his University, Montanuniversitat in Leoben, Austria, and reconstituted the historic Society of Mining Professors. Professor Fettweis became the first President of the newly formed society and an inspired leader of SOMP. Professor Fettweis serves as an example to his colleagues for his enthusiasm and commitment to the goals of the Society.
Award Committee
Past Secretary General, President Elect, and members at large.
2022-2023 Award Committee
Prof. Michael Karmis, Virginia Polytechnic Institute & State University, USA, Coordinator
2022-2023 President Elect: Prof. Serkan Saydam, UNSW, Australia
Member at Large: Prof. Zach Agioutantis, University of Kentucky, USA
Member at Large: Prof. Helmuth Mischo, TU Bergakademie Freiberg, Germany
Deadlines
Nominations should be submitted to the Chairman of the Committee, Prof. Michael Karmis, by April 1, 2023.
Nomination Letter
Nomination letters should include:
how the nominee meets the criteria for the award (not more than 2 pages)
an abbreviated resume of the candidate
a suggested award citation (30 words or less)
Winner List
| | | |
| --- | --- | --- |
| 2012 | Prof. Michael Karmis | In recognition of his accomplishments in education, research and professional service and for his vision and contributions to the Society of Mining Professors |
| 2013 | none | |
| 2014 | Prof. Huw Phillips | For his contributions to the educational programs of the society, his leadership in representing Africa in the society's council and for his role in building, promoting and transitioning Mining Education in South Africa. |
| 2015 | Prof. Per Martens | For his distinguished contributions to the advancement of underground mining systems, his pioneering work on mass flow of metallic raw materials and sustainable resource management and for enriching the profession through outreach workshops and conferences. |
| 2016 | Prof. Mario Cedrón Lassus | For his significant contributions to the international mining education community, his commitment in promoting sustainable development mining practices and his leadership in SOMP activities in Latin America |
| 2017 | none | |
| 2018 | none | |
| 2019 | Prof. Jürgen Kretschmann | For his dedication to the mission and goals for the Society of Mining Professors, exceptional enthusiasm in developing international programs and partnerships, unique contributions to capacity building efforts and his leadership and accomplishments as the 2018-19 President of the Society |
| 2020 (presented in 2021) | Prof. Oliver Langefeld | For his leadership in advancing mining engineering research and education, his commitment to capacity building and diversity of the Society and the discipline, and his impact and contributions to the values and mission of the Society of Mining Professors (SOMP)/Societät der Bergbaukunde. |
| 2021 | none | |
| 2022 | none | |